БІОЦЕНОЗ ХАРОВИХ ВОДОРОСТЕЙ ЯК ВАЖЛИВИЙ ЕЛЕМЕНТ ПРИБЕРЕЖНИХ ЕКОСИСТЕМ (НА ПРИКЛАДІ ТЕНДРІВСЬКОЇ І ЯГОРЛИЦЬКОЇ ЗАТОК ЧОРНОГО МОРЯ)
Ключові слова:
біоценоз харових водоростей, затоки та лимани, зооперіфітон, водні екосистеми, структура угрупування
Анотація
У даній роботі узагальнено опубліковані дані щодо поширення та динаміки кількісних показників фітоценозу харових в мілководних затоках ПЗЧМ. Мілководні затоки та лимани Чорного моря є вкрай специфічними водоймами, а акваторії, що досліджуються у даній роботі ще й мають високий  природохранний статус. На підставі власних даних охарактеризовано якісний і кількісний склад фітоценозу харових водоростей в Ягорлицькій та Тендрівській затоках Чорного моря. Наведено дані щодо видового складу і таксономічної структури зооперіфітону та макрозообентосу в складі біоценозу харових. Проаналізовано рівень біорізноманіття та трофологічна структура угруповання безхребетних тварин, приуроченого до заростей харових водоростей. Обговорюються питання значення харових як харчового ресурсу і субстрату для різних груп тварин.
Посилання
Borisova, Ye. V., Tkachenko, F. P. (2008), Materialy k flore Charales yugo-zapada Ukrainy [Materials to flora Charales of the southwest of Ukraine], Algologiya, vol. 18, No 3, pp. 287-298.
Yeremenko, T. I. (2001), Genezis i sovremennye cherty sostoyaniya makrofitobentosa v severo-zapadnoy chasti Chernogo morya [Genesis and modern lines of a condition macrofitobentos in a northwest part of Black sea], Naukovі zapiski Ternopіlskogo pedunіversitetu, No 3 (14), pp. 129-131.
Yeremenko, T. I., Minicheva, G. G. (1992), "Strukturno-funktsionalnaya kharakteristika donnoy rastitelnosti Yagorlytskogo zaliva" ["The Structurally functional characteristic of ground vegetation of the Jagorlytsky gulf"], Natural complexes of the Black Sea state biospheric reserve, V. – K. : Nauk. dumka, 161 p.
Zernov, S. A. (1908), Otchet o komandirovke v severo-zapadnuyu chast Chernogo morya dlya izucheniya fauny i sobiraniya kollektsii zoologicheskogo muzeya AN [The report on business trip in a northwest part of Black sea for studying of fauna and collecting of a collection of zoological museum АН], The Year-book of a zoological museum, vol. 13, 256 p.
Kalugina-Gutnik. A. A. (1975), Makrofitobentos Chernogo morya [Macrofitobentos of the Black sea], K. : Nauk.dumka, 248 p.
Kireeva, M. S., Shchapova, T. F. (1939), Donnaya rastitelnost vostochnogo berega Kaspiyskogo morya [Ground vegetation of east coast of Caspian sea], Bjuleten of the Moscow society of verifiers of the nature, No 48, pp. 32-49.
Korolesova, D. D. (2011), Bespozvonochnye, priurochennye k zaroslyam kharovykh (Charales) vodorosley v Tendrovskom zalive [The invertebrates dated for thickets харовых (Charales) of seaweed in the Tendrovsky gulf], Naukovі chitannya, prisvyachenі dnyu nauki. Khersonska gіdrobіologіchna stantsіya NAN Ukraїni,
Kherson: PP Vishemirskiy V.S., 118 p.
Makkaveeva, Ye. B. (1979), Bespozvonochnye zarosley makrofitov Chernogo morya [Invertebrates of thickets of the macrofit Black sea], Kiev: Naukova dumka, 227 p.
Maslov, I. I. (2001), Makrofitobentos Tamanskogo zaliva (Kerchenskiy proliv) [Macrofitobentos the Tamansky gulf (Kerch strait)], Visnik Luganskogo derzhavnogo pedagogichnogo universitetu im. Tarasa Shevchenko, № 11(43), pp. 50-55.
Milchakova, N. A., Aleksandrov, V. V. (1999), Donnaya rastitelnost nekotorykh rayonov limana Donuzlav (Chernoe more) [Bottom-dwelling vegetation of some areas of estuary Donuzlav (Black sea)], Sea ecology. No 49, pp. 68-71.
Morozova-Vodyanitskaya, N. V. (1936), Opyt kolichestvennogo ucheta donnoy rastitelnosti V Chernom more [Experience of the quantitative account of bottom-dwelling vegetation In Black sea], Works of the Sevastopol biological station, vol V, pp. 45-53.
Morozova-Vodyanitskaya, N. V. (1959), Rastitelnye assotsiatsii v Chernom more [Plant associations in Black sea], Works of the Sevastopol biological station, vol. XI, pp. 3-28.
Panteleev, P. A. (1999), O roli iskhodnoy aksiomy v zoologicheskikh issledovaniyakh [About a role of an initial axiom in zoological researches], The zoology Bulletin, vol.33. No 3, pp.103-109.
Pauli, V. L. (1927), Materialy k poznaniyu biotsenozov Yegorlytskogo zaliva [Stuffs to knowledge of biocenoses of the Egorlytsky gulf], Works of Vseukrainsky State Chernomoro-Azov Scientifically-trade Experimental station, vol. II, v. 2, pp. 63-75.
Pogrebnyak, I. I. (1953), Donnaya rastitelnost Dnestrovskogo limana i nizovya Dnestra [Bottom-dwelling vegetation of Dnestrovsky estuary and lower reaches of Dnestr], Stuffs on hydrobiology and fishery of Northwest Black Sea Coast, K., No 2, pp. 64 – 74.
Pogrebnyak. I. I. (1965), Donnaya rastitelnost limanov severo-zapadnogo Prichernomorya i sopredelnykh im akvatoriy Chernogo morya [Bottom-dwelling vegetation of estuaries of northwest Black Sea Coast and adjacent it of water areas of Black sea], The Extended abstract of Doctor's thesis, Odesa, 31p.
Pogrebnyak, I. I., Ostrovchuk, P. P. (1973), Fitotsenozy myagkikh gruntov severo-zapadnoy chasti Chernogo morya [Phytocenosis of soft soils of a northwest part of Black sea], Stuffs of the All-Union symposium on a level of scrutiny of Black and Mediterranean seas, to use and preservation of their resources, pp.145-147.
Pupkov, V. A. (1980), Zoobentos Yagorlytskogo i Tendrovskogo zalivov i ego rol v pitanii vodoplavayushchikh ptits Chernomorskogo gosudarstvennogo zapovednika [Zoobenthos of Jagorlytsky and Tendrovsky gulfs and its role in a food of waterfowls of the Black Sea national park], Scientific funds CHBZ. The manuscript, 92 p.
Rubinshteyn, I. G. (1991), "Otchet o NIR Rybokhozyaystvennyy razdel TEO okhrany zalivov Chernogo morya ot zagryazneniya DVS i stochnymi vodami v zone Krasnoznamyanskoy orositelnoy sistemy Khersonskoy oblasti (Nauchnye fondy ChBZ, Inv. №178)" ["The report on NIR Rybohozjajstvennyj partition of the FEA SIBILITY REPORT of preservation of gulfs of Black sea from contamination ДВС and sewage in a region of Krasnoznamjansky sprinkling system of the Kherson area"], Kerch: Manuscript YuGNIRO, pp. 8-36.
Sadogurskiy, S. Ye. (2002), Novi mistseznakhodzhennya kharovykh vodorostey na Kryms'komu pivostrovi [New locations of Charales algae water-plants are on the Crimean peninsula], The Ukrainian botanic magazine, No 59 (2), pp. 179-184.
Sadogurskiy, S. Ye. (2006), Makrofitobentos vodoemov ostrova Tuzla i prilegayushchikh morskikh akvatoriy (Kerchenskiy proliv) [Macrofitobentos reservoirs of island Tuzla and adjoining sea water areas (Kerch strait)], Algologija. No 16 (3), pp. 337-354.
Sadogurskiy, S. Ye. (2009), Flora i rastitelnost akvatoriy filiala Krymskogo prirodnogo zapovednika Lebyazhi ostrova (Chernoe more): sovremennoe sostoyanie i puti sokhraneniya [Flora and vegetation of water areas of branch of the Crimean connatural reserve Swan islands (Black sea): a current state and conservation paths], Zapovіdna sprava v Ukraїnі, No 15 (2). pp. 41-50.
Tkachenko, P. V. (1997), Ryby: Letopis prirody Chernomorskogo biosfernogo zapovednika. – Nauchnye fondy Chernomorskogo biosfernogo zapovednika [Fish: annals of the nature of the Black Sea biosphere reserve. – scientific funds of the Black Sea biosphere reserve], 159 p.
Tkachenko, F. P., Kovtun, O. O. (2004), Novi znakhidky makrofitiv u Ty`ligul`s`komu ly`mani Chornogo morya [New finds macrofit in Tiligulsky estuary of Black sea], Vіsnik Kharkіvskogo agrarnogo unіversitetu. No 1(4), pp. 108-115.
Tkachenko, F. P., Maslov, I. I. (2002), Morskoy makrofitobento Chernomorskogo biosfernogo zapovednikayu [Sea macrofitobentos the Black Sea biosphere reserve], Sea ecology, vol. 62, pp. 34-40.
Chernyakov, D. O., Tkachenko, P. V. (2003), Suchasni problemy` zberezhennya pry`rodno-akval`ny`kh kompleksiv Tendrivs`koyi ta Yagorly`cz`koyi zatok [Modern problems of conservation nature-akval complexes of Tendrovsky and Jagorlytsky gulfs], Mat. nauk. konf., prisvyachennoї 50-rіchchyu Khersonskoї gіdrobіologіchnoї stantsії, Kherson: Ailant, pp. 221-229
Albertoni, E. F.; Palma-Silva, C., de Assis Esteves, F. (2001), Macroinvertebrates associated with Chara in a tropical coastal lagoon (Imboassica lagoon, Rio de Janeiro, Brazil), Hydrobiologia, Kluwer Academic Publishers, 457, pp. 215-224.
Blindow, I., Dietrich, J., Mollmann, N., Schubert, H. (2003), Growth, photosynthesis and fertility of Chara aspera under different light and salinity conditions, Aquat. Bot., No 76(3). pp. 213-234
Chernyakov, D. A. (1998), The influence of different winter meteorological conditions on succession processes in the Tendrovsky and Egorlitsky bays: Management and conservation of the northen-western Black sea coast: Proceedings of the EUCC international symposium (Odesa, 1998), Odesa: Astroprint, pp. 43-47.
Espinar, J. L., García, L. G. (2002), Submerged macrophyte zonation in a Mediterranean salt marsh: a facilitation effect from established helophytes? Journal of Vegetation Science, vol. No 13, pp. 831-840.
Kufel, L., Kufel, I. (2002), Chara beds acting as nutrient sinks in shallow lakes―a review, Aquatic Botany, vol.72, pp.249-260.
Palma-Silva, F., Edelti, A., Francisco, E. (2002), The role of Charophytes primary production in a coastal lagoon subjected to human impacts (RJ, Brazil), Acta Limnologica Brasile, No 14, pp. 59-62.
Schmieder, K., Werner, S., Bauer, H. (2006), Submersed macrophytes as a food source for wintering waterbirds at Lake Constance, Aquatic Botany, No 84, pp. 245-250.
.Stanevicus, V., Svazas, S., Raudonikis, L., Grazulevicius, G. (2010), Staging and moulting concentrations of the common Pochard (Aythya ferina) in lithuania, Acta Zoologica Lituanica. vol. 18, No 4, pp. 273-282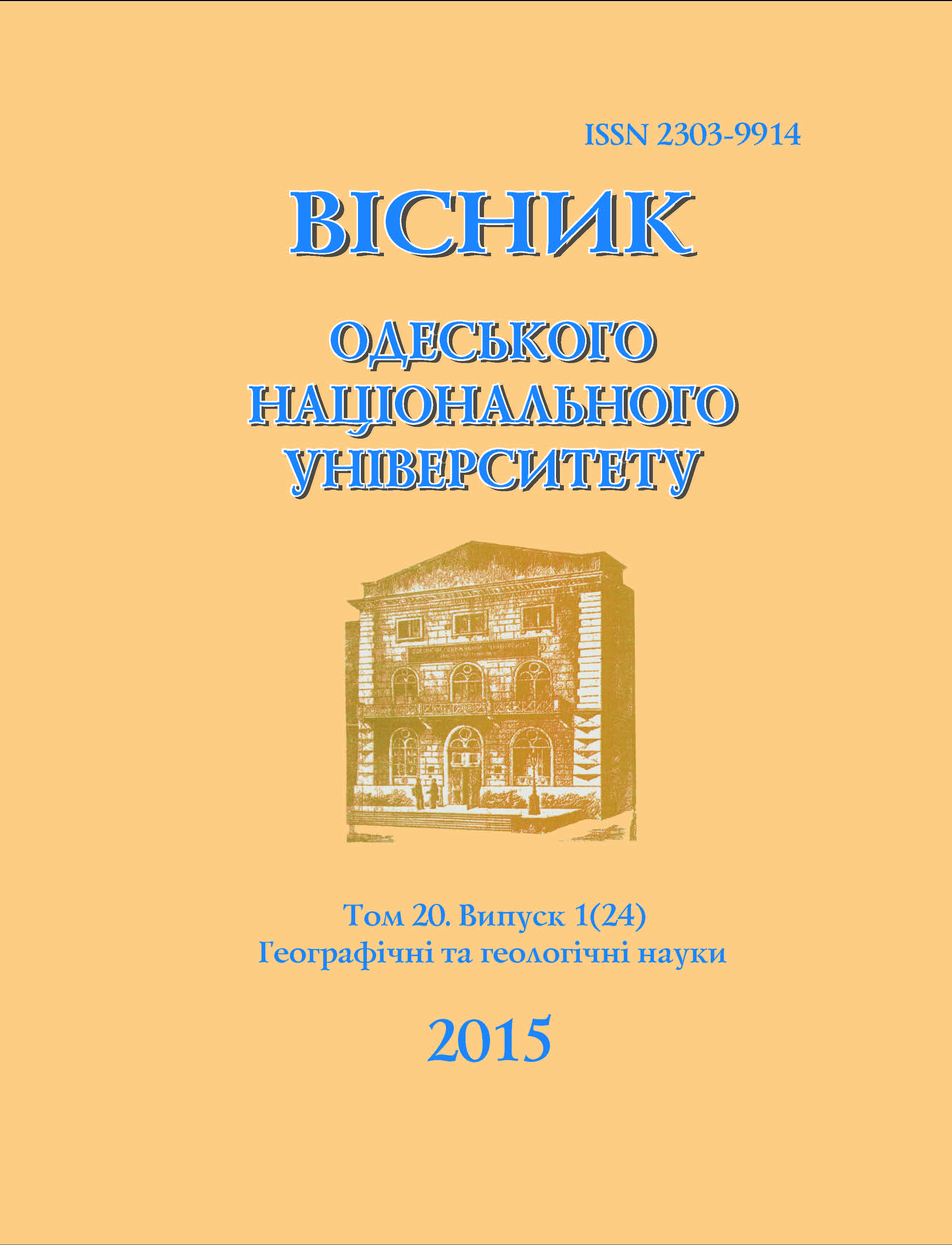 ##submission.downloads##
Розділ
БЕРЕГОЗНАВСТВО ТА ОКЕАНОЛОГІЯ
Ліцензія
Авторське право (c) 2016 Вісник Одеського національного університету. Географічні та геологічні науки
Ця робота ліцензується відповідно до Creative Commons Attribution-NonCommercial 4.0 International License.
Авторські права охороняються Законом України "Про авторське право і суміжні права".
Автор зобов'язаний подавати свої матеріали у вигляді, що відповідає вимогам відповідних стандартів з підготовки авторських оригіналів та правил, установлених редакцією.
У разі відмови автору в публікації його матеріалів він має право на одержання висновку щодо цього.
Редакційна колегія залишає за собою право на редакційні виправлення. 
Гонорар за опубліковані роботи авторам не сплачується, друкований примірник не видається.
Правовласниками опублікованого матеріалу являються авторський колектив та засновник журналу на умовах, що визначаються видавничою угодою, що укладається між редакційною колегією та авторами публікацій. Ніяка частина опублікованого матеріалу не може бути відтворена без попереднього повідомлення та дозволу автора.
Публікація праць в Віснику  здійснюється на некомерційній основі.
Усі права на матеріали, опубліковані в Журналі, захищені. Будь-яке використання матеріалів, опублікованих в Журналі повністю або частково, без дозволу Видавництва забороняється. Запити відносно усіх видів використання вказаних матеріалів повинні спрямовуватися у Видавництво.
Автор (співавтори) несуть усю відповідальність за науковий зміст, достовірність відомостей, використовуваних в статті, а також за збереження державної і комерційної таємниці.
Відхилені редколегією статті авторам не повертаються. Рецензент і члени редколегії журналу не мають права використовувати матеріали статті без письмового дозволу автора.